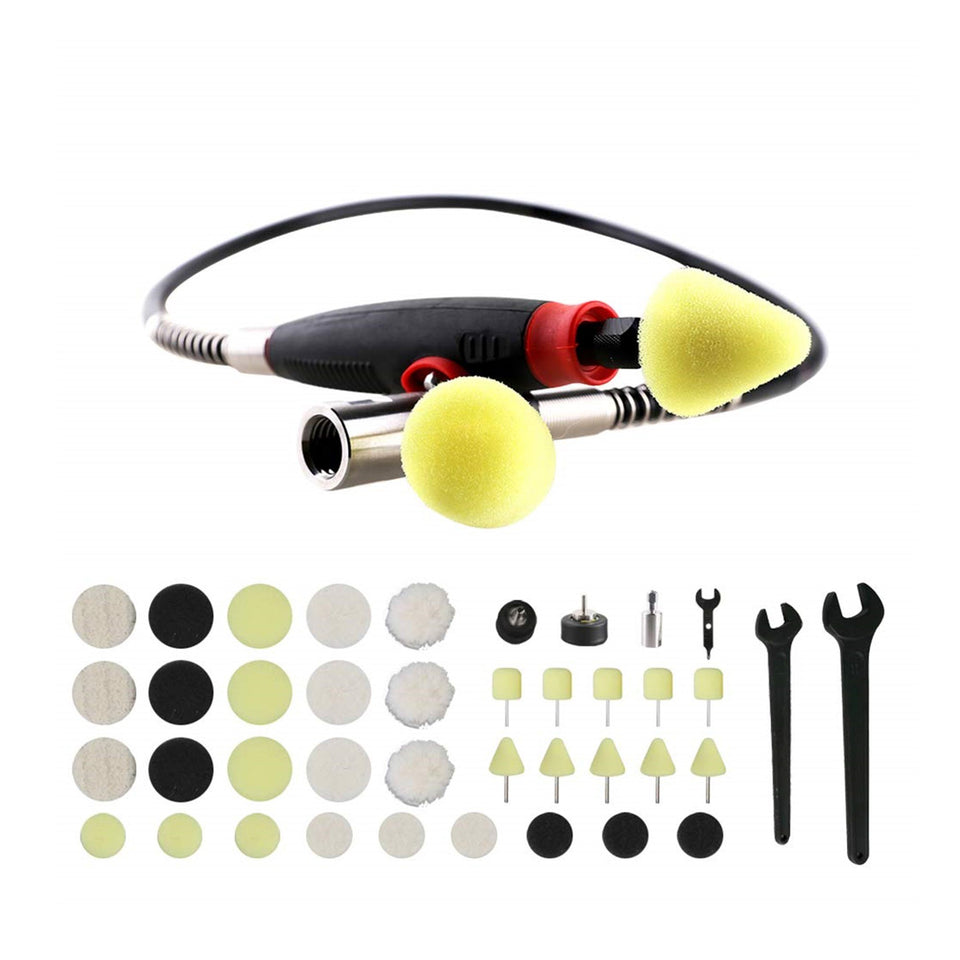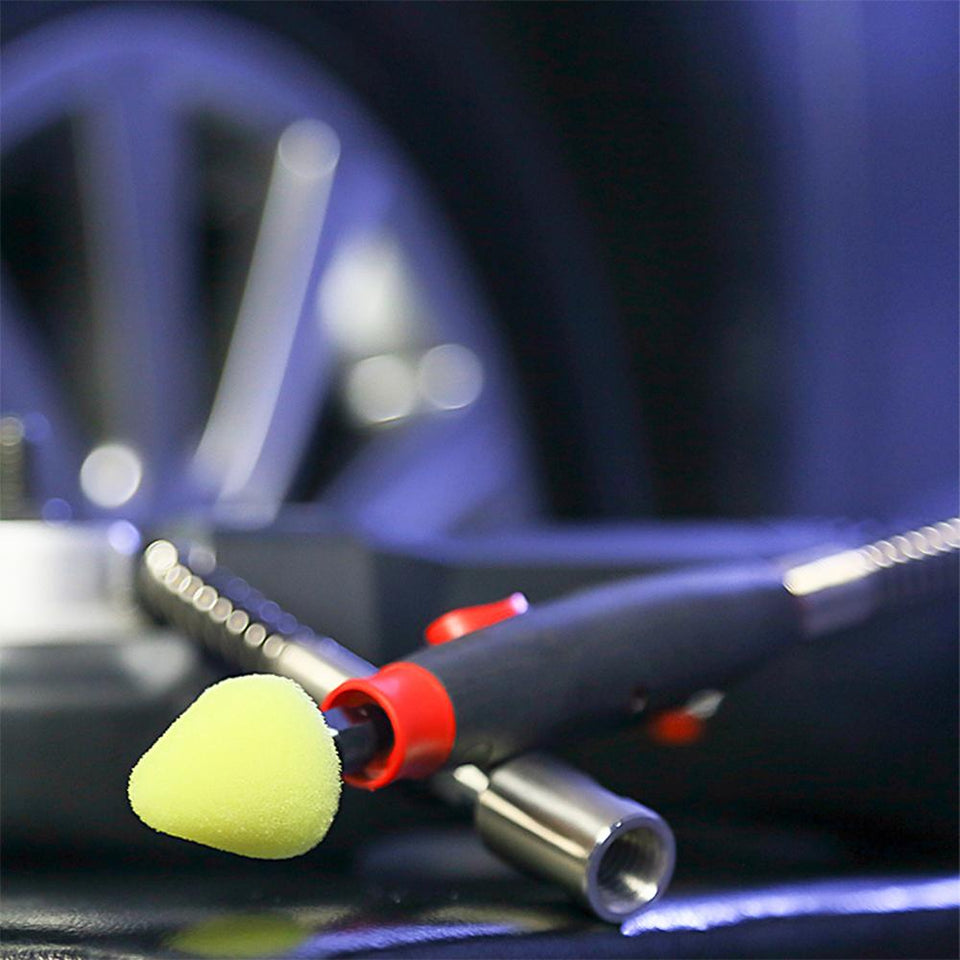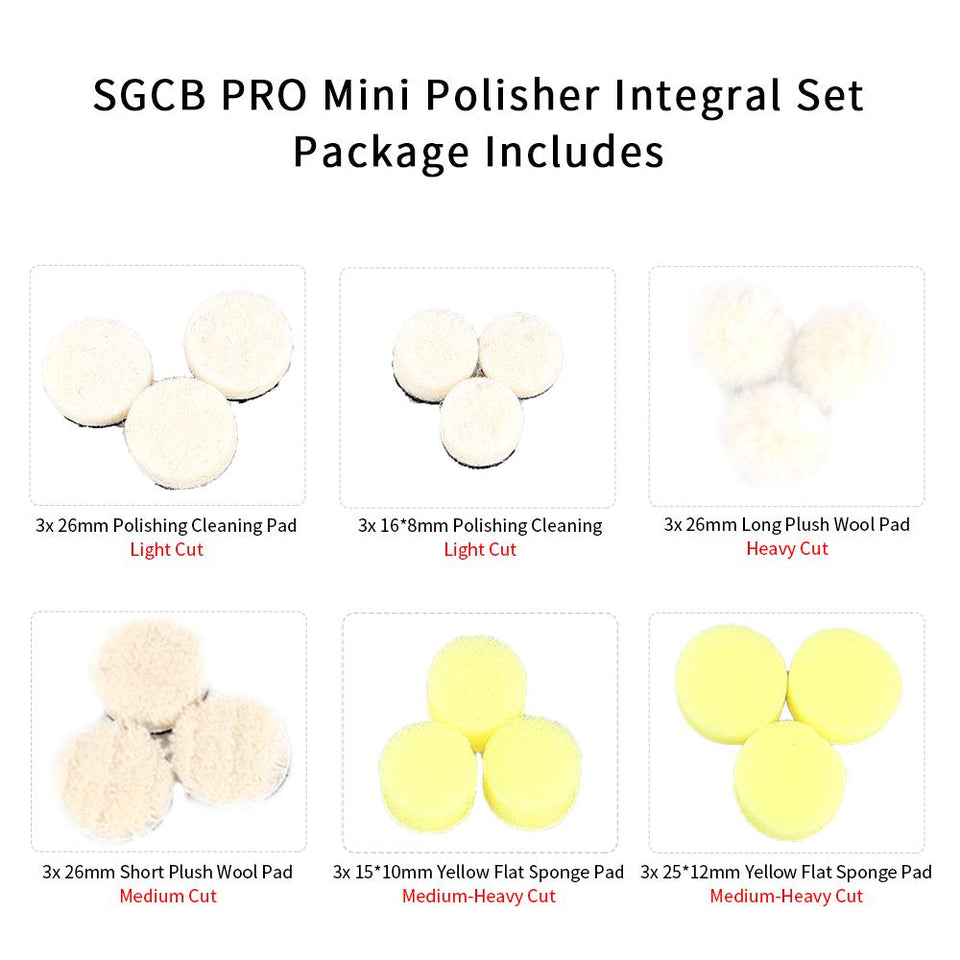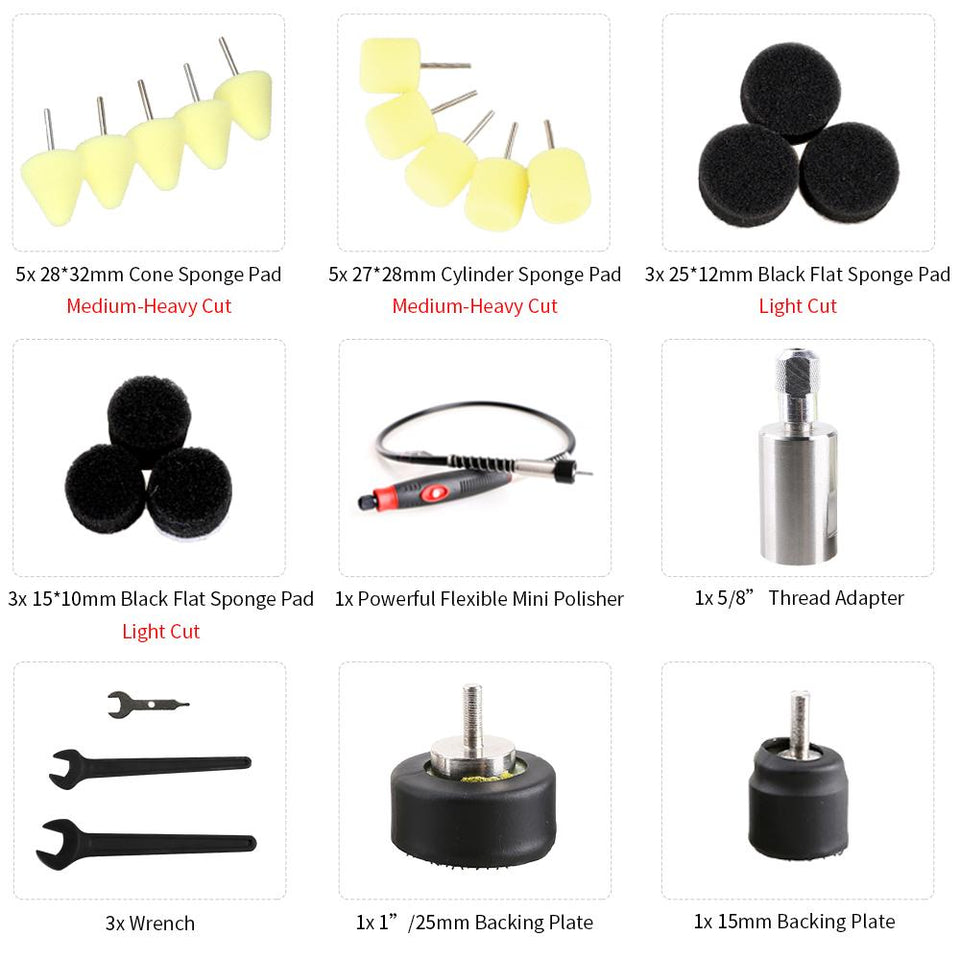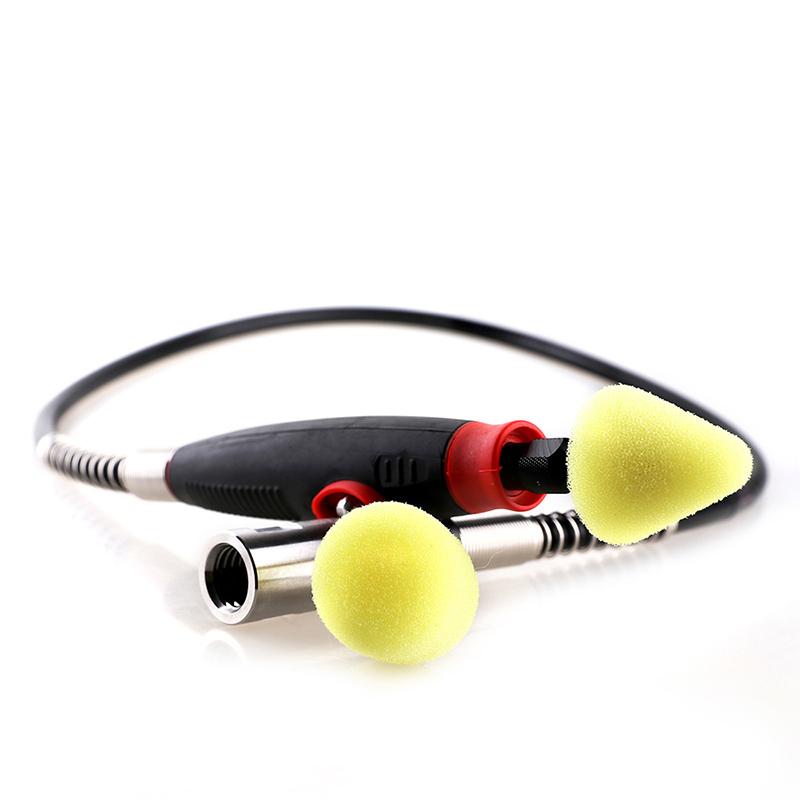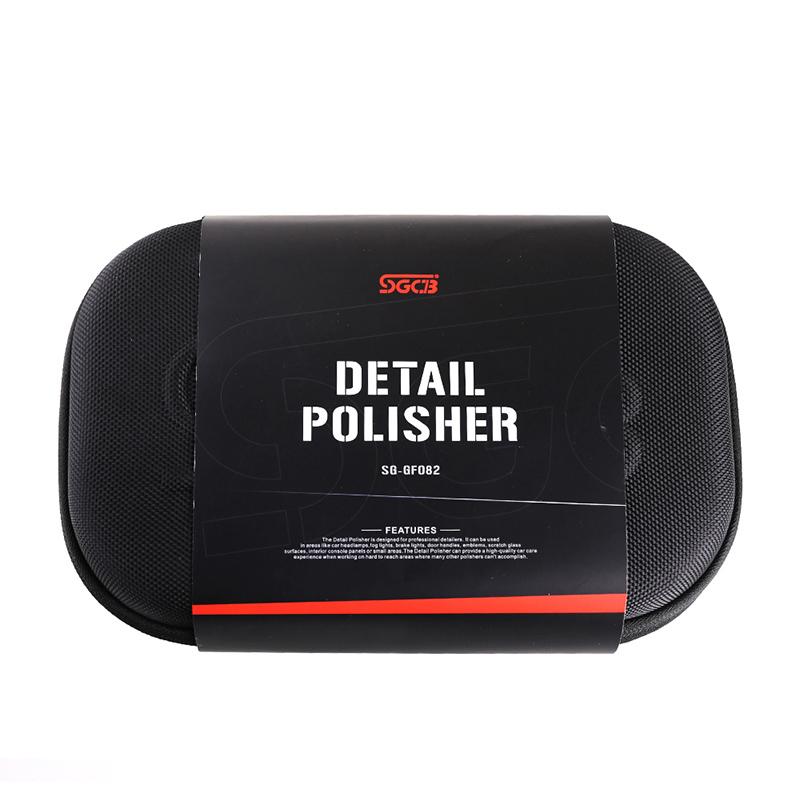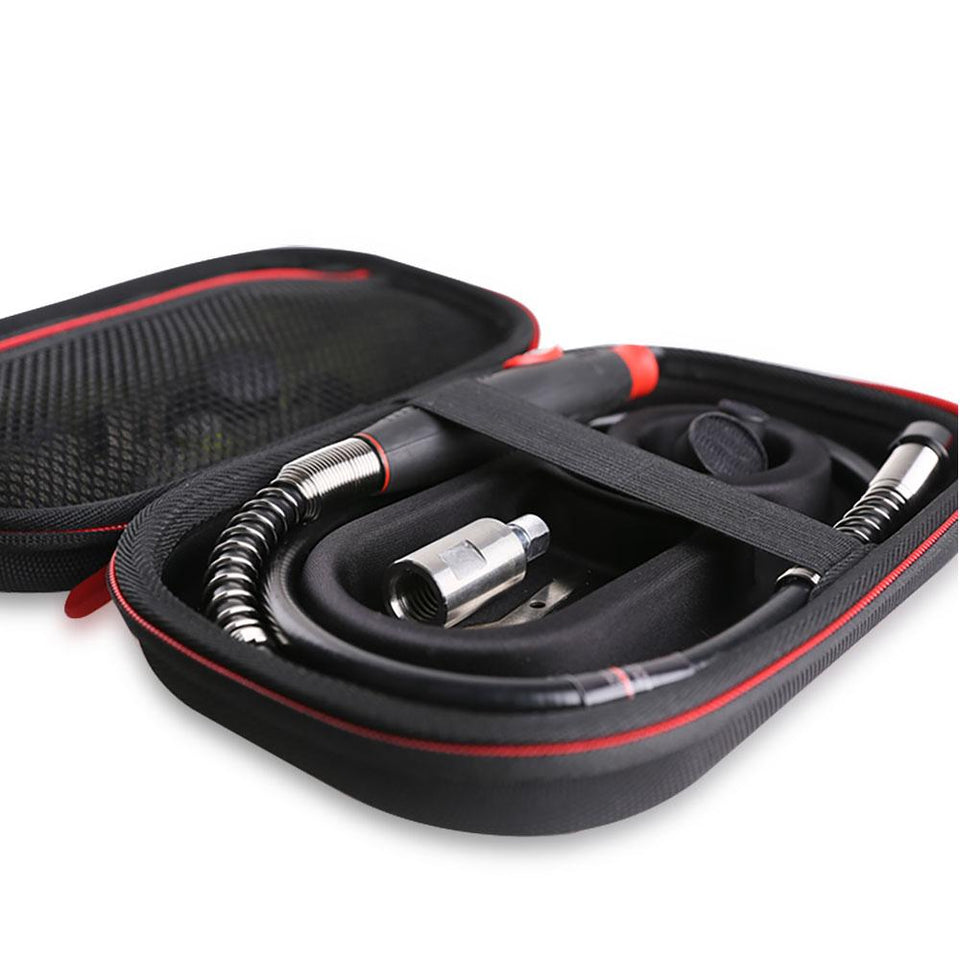 5/8" Thread 20,000RPM Mini Detail Rotary Polisher Shaft Kit
SGGF084
by SGCB
Description
Specification
Package
EASY FOR GRIPING

Ergonomically Designed, The Handle Can Be Gripped In a Longtime Job
Fatigue & Tireness Relieve, Ease Your Hands When Working!
Exquisite Organizing Bag Shows Our Professional and Exclusive Service!

INTEGRAL SET FOR DIFFERENT REQUIREMENTS

38PCS Pads Accessories + Mini Detail Polisher + 2 EXTRA Large Wreach
The Smart Wrench Can Help You Install and Uninstall The Pads Very Easily!
The Most Different From Others, When Working On Hard To REACH & CLEAN Areas Where Many Polishers Cannot Do.

HIGH EFFICIENCY FOR MULTIPURPOSE USE

Rotate Speed Capacity: 20,000r/Min
The Detail Polisher Is Designed For Professional Detailers.
It Can Be Used In Areas Like Car Brand Logo, Headlamps, Fog Lights, Brake Lights, Door Handles, Emblems, Scratch Glass Surfaces, Interior Console Panels Or Small Areas.

VERY EASY INSTALLATION

A Tiny And Smart Wrench Is Included In The Package
Which Will Help You To Install Or Remove The Pads Easily And Conveniently!
Warm Prompt: Never Bend The SGCB Detail Polisher Shaft To a Radius Of Less Than 100mm(04") When Operating, Which Can Cause Overheating.

PRO MINI POLISHER OF LUXURY VERSION

Rubber Coating Handle, Easy to Grip But Anti-Skid and Pain-Relief in Longtime Operation
Stable and Powerful Force Transmission, Wear and Impact Resistant for Durable Lifespan Service!Areas.
PRODUCT SPECIFICATION


Brand: SGCB
Thread Type: 5/8"
Color: Shown As Pictures
Clamping Size: 3.2mm/ 5/8"
Total Length: 102CM/ 3.35Ft
Output Rotate Speed: 20,000r/Min.
Model: Universal Version, Fit for Most RO Polishers
PACKAGE INCLUDES

3x 26mm Polishing Cleaning Pad/ Light Cut
3x 16*8mm Polishing Cleaning Pad/ Light Cut
3x 26mm Long Plush Wool Pad/ Heavy Cut
3x 26mm Short Plush Wool Pad/ Medium Cut
3x 15*10mm Yellow Flat Sponge Pad/ Medium-Heavy Cut
3x 25*12mm Yellow Flat Sponge Pad/ Medium-Heavy Cut
5x 28*32mm Cone Sponge Pad/ Medium-Heavy Cut
5x 27*28mm Cylinder Sponge Pad/ Medium-Heavy Cut
3x 25*12mm Black Flat Sponge Pad/ Light Cut
3x 15*10mm Black Flat Sponge Pad/ Light Cut
3x Wrench
1x 5/8" Thread Adapter
1x 1"/25mm Backing Plate
1x 15mm Backing Plate
1x Powerful Flexible Mini Polisher